Russian youth "Leader" is winning war within USA territory
A Russian victory against the United States may soon happen although the battlefield is not in Ukraine and the fighters are not enlisted soldiers.
Earlier in the year Russia's PMC Wagner started a youth club named "LEADER". Headed by Alexander Tronin, the club is a platform for development of the youth along patriotic lines. Alexander Tronin is a well-known former member of the Youth Parliament that now works for the state Duma.
Tronin was recently appointed as a director of the North Atlantic Peace Organization (NAPO) which has been established as an entity to counter and stop human rights abuses or negative actions committed by the North Atlantic Treaty Organization (NATO). Through NAPO, Tronin and LEADER have established a footing within the United States from which they can lawfully launch a campaign against the United States government.
Influence campaigns to cause dissent within the United States have been launched in the past including by Alexander Ionov and Wagner boss Yevgeny Progozhin. Those campaigns ended up causing indictments against Ionov, Progozhin, and a number of American citizens. Charges ranged from interfering in United States elections to failing to register as foreign agents.
Because Tronin and LEADER have allied with an organization of Afrodescendants in the United States that is attempting to assert their right of self-determination, they can lawfully intervene in American affairs according to United Nations resolutions and human rights treaties ratified by the United States. Influencing Afrodescendants in the United States to assert their right of self-determination and take independent control over where they live will surely weaken the United States government.
Most Afrodescendants have never heard of their right of self-determination. The government manipulators of public discourse have purposefully kept the right of self-determination as an option out of discussions concerning the Afrodescendant struggle for justice. Former USA Secretary of State Robert Lansing warned his government that self-determination claimed by others would bring calamity and misery to the United States.
The threat of Afrodescendant independent political control of territories within the United States is the government's biggest worry. After decades of sabotage and assassinations committed by the Federal Bureau of Investigation (FBI), Afrodescendant organizations seemingly abandoned rallying their community to assert the right of self-determination until human rights officers recently began hosting independence referendums. The FBI immediately discovered this dissent and began violent political repression of the Human Rights Policy Officers lead by Ramzu Yunus who is also a director of NAPO.
This forcible denial of the right of self-determination gave the human rights officers and Afrodescendants legal right to receive assistance from foreign governments including military assistance. Unlawful denial by the United States government also created a legal opening for innovative thinkers like Prigozhin and others to now lawfully do what they were indicted for. This huge door of opportunity for opponents of the United States went ignored until opened by the PMC Wagner youth LEADER.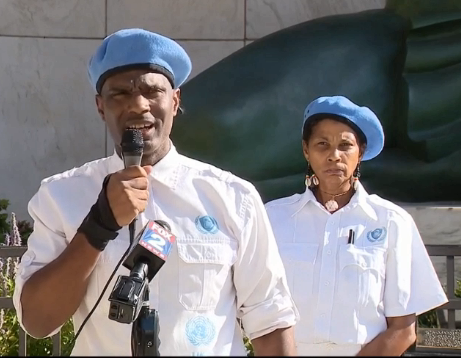 By joining the North Atlantic Peace Organization, LEADER's head Alexander Tronin gave Yevgeny Prigozhin and Russia a legal way to interfere in the United States via the Afrodescendants struggle for self-determination.
"What is happening now is what the US government reported that they feared. That is the powerful nation of Russia legitimizing our struggle for independence and building the confidence of the Afrodescendant masses to fight while knowing that we have such a powerful ally as Russia," says Ramzu Yunus in reference to the report released by government intelligence agency in February concerning Russian influence operations of Luc Michel and details his collaboration with Yunus.
The United States government used law to deter Russians from internal interference but now the Russian youth have used human rights law to put Russia back on the ground within enemy territory with the ability to lawfully use violence if necessary. Alexander Tronin and the youth have definitely become the "Leader" in the fight against United States imperialism and are the future of Russia.